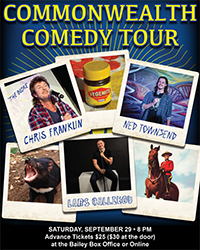 Commonwealth Comedy Tour
When
Occurs on Friday September 29 2023
Approximate running time: 2 hours
Venue
Event Notes
×
The Commonwealth Comedy Tour brings three professional touring comedians, one Canadian and two Australians, to the Bailey stage.
Lars Callieou has appeared at the Just for Laughs Festival in Montréal and has a 1-Hour Comedy Special currently airing on The Comedy Network. He's been overseas to entertain the troops 5 times (Kuwait, IRAQ, Turkey, Kyrgyzstan, Dubai and Abu Dhabi) and is a 2-Time Canadian Comedy Award Nominee. He can be heard on CBC's Laugh Out Loud, CBC's The Debaters and on Sirius/XM.
Lars has toured with the likes of Miss Joan Rivers, Jeff Foxworthy, and Bob Saget . He's performed at the Melbourne International Comedy Festival each year since 2015 and has also appeared at the Bridgetown Comedy Festival in Portland, the Boston Comedy Festival, the World Series of Comedy in Las Vegas and the Halifax Comedy Festival in… well… Halifax.
Chris Franklin is one of Australia's premier comedy stars. He's an Aussie bloke, a yobbo or a bogan, from his flannelette shirt to his double plugger thongs. His 'Hoganesque' style of comedy appeals to every average Australian and touches on the delicate issues of beer, sport and relationships - he's also had a number 1 hit single entitled 'Bloke'. Not bad for someone who can't sing.
Chris has performed with such comedy legends as: Jimeoin, Steady Eddy, Garry Who, Carl Barron, Anh Do, Dave Hughes, Elliot Goblet, Raymond J Bartholomew, Marty Fields, The Empty Pockets, Peter Rowsthorn, Bob Franklin, Ross Daniels, Tom Green, Jim Jeffries, Stevie Starr, Mr Methane, and rock bands, The Angels, Rose Tattoo, The Screaming Jets, Yothu Yindi and The Radiators. He has even worked with international music stars like Santana, Chris Isaak, Elvis Costello, Boz Scaggs, Status Quo, Tony Joe White & Bonnie Raitt.
Chris has also done five 'TOURS OF DUTY', travelling to The Solomon Island, East Timor, Iraq and twice to Afghanistan, to entertain the Aussie troops and help keep their spirits high. Chris has also performed around the world, in Scotland, Singapore, Hong Kong, New Zealand, New Guinea, The United Arab Emirates, Malaysia and America. Chris has headlined and MC'd every major comedy club in Australia and quite a few around the world. He is regarded by his peers as one of the best in the business. He is equally at home addressing a four-course corporate function, a country football club, or the front bar of your local pub.
Ned Townsend is what happens when you photocopy Orlando Bloom and the printer runs out of ink.
A comedian since his high school days, Ned has entertained across his island home state of Tasmania organising comedy nights and supporting some of Australia's best Comedians such as Nick Cody and Dave Hughes.