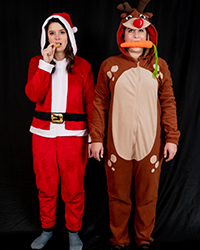 Christmas Business - a Night of Strictly Business...
When
Occurs on Friday December 16 2022
Approximate running time: 2 hours
Venue
Event Notes
×
The Return of the Holiday favourites!
Strictly Business performs their holiday show! Come see this musical cabaret bring laughter, entertainment, and holiday cheer back into the Bailey.
Strictly Business Theatre is an Edmonton based theatre company producing and performing both hilariously entertaining and heartwarming cabarets. From the creators: " Cabaret, to us, is essentially a variety show comprised of song and dance, tied together with stories and jokes. We love to share our cabarets in a casual and fun environment. The audience is always encouraged to have a few drinks, because lets face it- the more you drink, the better we sound!