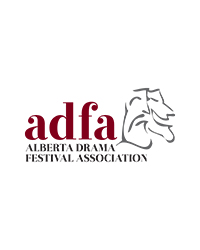 Weekend Pass - A.D.F.A. Provincial One Act Festival
When
Occurs on Friday May 27 2022
All Day Event
Venue
Event Notes
×
Weekend Schedule - Subject to Change
Friday, May 27
7:00 pm - Andre's Mother - liii Theatricals
7:30 pm - Allotted Hearbeats in Alternate Timeline - Alternate Timelines Theatre
8:50 pm - Garbage - Waterworks Players
Adjudications to follow
Saturday, May 28
1:00 pm - The Descent of Man - MacDaDa Theatre
1:50 pm - Seagulls - Night Duck Theatre
2:50 pm - Idealistic - Floater Studios
Adjudications to follow
7:30 pm - Boxed In - Spotlight Performance Collective
8:25 pm - Buying a Brassiere - Taber Players
9:15 pm - Adjudication & weekend awards
The Alberta Drama Festival Association (ADFA)'s Provincial Festival is a celebration of drama. It provides an occasion for the coming together of all community drama groups in a festival for all of Alberta. The Provincial Festival alternates between regions, trying to maintain a balance between the southern and northern regions, and this year the Bailey Theatre is proud to host this illustrious competition.
Within each of the ADFA's ten regions, various functions, workshops and activities are organized or developed. Each region has a committee who is autonomous and operates to encourage and develop the potential within their region. Each year the Directors from these regions organize a festival and from these festivals, one play is chosen by an adjudicator to represent each region at the Provincial One Act Festival.
We have followed the practice of having one or two adjudicators at a festival. They publicly comment upon the performances and are available for a more detailed private discussion with the individuals involved in the production.
The Alberta Drama Festival Association (ADFA) is an umbrella organization for adult amateur drama activity in the province of Alberta. It was formed in 1969 to assume organization of the adult one-act drama festival formerly run by the Drama Division of Alberta Culture. ADFA is a non-profit association incorporated under the Societies Act of Alberta.
One ticket purchase provides access to all the performances of the weekend. Times TBC by the ADFA.