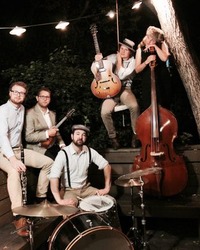 Misery Mountain Boys
When
Occurs on Saturday November 5 2022
Approximate running time: 2 hours
Venue
Event Notes
×
Presented by Rose City Roots Music Society
You might hear the tunes of the Misery Mountain Boys drifting from behind a rotating bookcase of a 1930's speakeasy. Harkening back to a simpler time, the MMB's create a collaborative soundscape infused with humour, tongue-in-cheek wit, nostalgia, and playfulness. With a mix of catchy originals and contemporary songs reimagined in driving swing, the melodies of the MMB's deliver themselves as both surprising and inevitable. The band offers a diverse range of sonic experiences, urging audiences to gyration in the tasselclad, sweaty swing numbers, and swaying in the velvety jazz tunes.
Born in the remote, river-laced hills of Northern Alberta, the Misery Mountain Boys is the black sheep brainchild of frontman Steven Gevenich, supplanted and enriched by bassist Lindsey Bueckert, clarinetist/saxophonist Sam Toms, & drummer Ethan Markwart. Each bring their impressive musicianship to the 8 year musical partnership, and this is readily apparent in the confidence of the four piece they embody. Playful bass lines, energetic, snareheavy drums, meandering & melodic clarinet, and Gevenich's own skillful jazz guitar and gentle, gravely voice form the musical landscape of the Misery Mountain Boys.
A musical rarity in an industry busy with melancholy, the Misery Mountain Boys are a confident celebration of all that is exciting and moving about being alive. The project firmly asserts that playfulness & ease are sacred, and we all have the right to boogie.