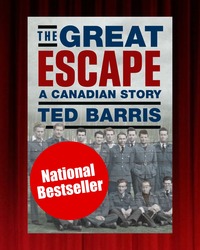 The Great Escape Double Feature
When
Runs from Wednesday November 10 2021 to Wednesday November 10 2021
Approximate running time: 2 hours
Venue
Event Notes
×
This is the war story we all think we know... but don't!
FIRST FEATURE 5:00 pm - 6:00 pm Ted Barris, acclaimed Canadian historian, returns to Camrose to tell the true story of the Great Escape. The breakout was, in many ways, a "Made in Canada" escape. A significant number of the principal planners, task leaders and key players as well as some of those who got away that night were Canadian airmen. Ted's story is more riveting than the Hollywood movie, and it is all true!
INTERMISSION Mr. Barris has a supply of his book The Great Escape: The Untold Story, which he will be happy to autograph for you or some lucky person on your Christmas list.
The Spotlight Bistro is offering a special boxed lunch for $15, including a bottle of water, to those who wish to grab a bite to eat before the movie. Options include a sandwich/salad combo or a charcuterie. Order by November 8.
SECOND FEATURE: 7:00 to 10:00 p.m. The Great Escape is a full-length feature movie, with Steve McQueen, James Garner, Richard Attenborough and Charles Bronson This is one of the all-time great war movies, a POW adventure from director John Sturges, that celebrates the indomitable spirit of the allied forces, even when their backs were to the wall.
Guests are welcome to come and stay for the entire evening or just attend the Barris presentation or the movie. Either way, free admission has been made possible by Camrose Booster Ltd.