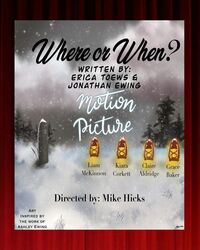 Bailey Premiere - Where Or When?
When
Occurs on Saturday July 24 2021
Approximate running time: 3 hours
Venue
Event Notes
×
Join the Bailey Theatre and Typecast Anonymous for the film premiere of Where or When?, a one-act play filmed inside the Bailey Theatre.This event will include the debut screening of Where or When?, live music performed by the film's composer, and a panel discussion with the actors, director, and writers. Light food and refreshments will be provided as part of this event.
Synopsis - Where or When? Frank, Julie, and Ma Miller are a family of lifelong farmers. After Pa's death, Frank feels the responsibilty of the farm becoming an inreasing weight on himself. With Julie leaving for the city and Ma becoming more of a burden than a help, the pillars are crumbling around him. Suddenly, an old friend appears that throws a wrench into the downward spiral of the farm.