First We Eat Wednesday, February 1, 2023 at 6:30 PM MST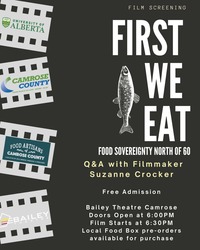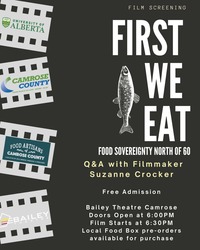 You've selected
Wednesday, February 1, 2023 at 6:30 PM MST
×
Presented by University of Alberta - Augustana Campus, County of Camrose, and the Food Artisans of Camrose County.
What happens when an ordinary family, living just south of the Arctic Circle, bans all grocery store food from their house for one year? Add three skeptical teenagers, one reluctant husband, no salt, no caffeine, no sugar and -40° temperatures.
Join filmmaker Suzanne Crocker to view her film First We Eat – Food Sovereignty North of 60 and then a discussion about the film, local foods and what you can do to support the local food movement.
In addition to a discussion with the filmmaker, there will be local food producers on hand and a local food box available for preorder (details below).
Registration for the event is free, with advance registration encouraged. A $22 locally sourced charcuterie add-on from the Spotlight Bistro is available. Each add-on will also count as 1 registration for the event.
Venue
Bailey Theatre
5041-50 Street
Camrose AB T4V 1R3
×
This is a festival seating performance - the seats are on a first come, first serve basis when you arrive at the venue.
Doors open 1/2 hour prior to start of performance.