Hart Wrestling Thursday, August 25, 2022 at 7:00 PM MDT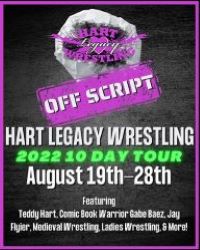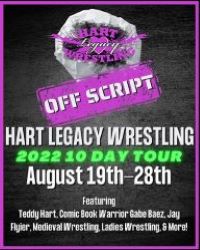 You've selected
Thursday, August 25, 2022 at 7:00 PM MDT
×
Stu Hart of Stampede Wrestling delivered quality and quantity to keep the spirit of wrestling alive for many years in Calgary and worldwide. Hart Legacy Wrestling would like to deliver the same punch. Keeping fans in the seats week after week, year after year, by producing real wrestling and real wrestling talent.
Hart Legacy Wrestling's goal is to develop a world renowned company based out of Canada and the USA, by being forward thinking and using old school techniques with a twist of modern.
Hart Legacy Wrestling is the number one company in the wrestling industry in Canada!  We bring in top brand name talent from all over the world keeping fans screaming and chanting "This Is Awesome!" After several pilot projects and working with the famous Hart family, Hart Legacy Wrestling worked in understanding the way wrestling needs a comeback.
Venue
Bailey Theatre
5041-50 Street
Camrose AB T4V 1R3
×
This is a festival seating performance - the seats are on a first come, first serve basis when you arrive at the venue.
Doors open 1/2 hour prior to start of performance.